The transportation and storage segment has always been a significant component in the Philippine economy, summing up to USD 13 billion in 2019. It has accounted for around 4% of GDP over the last five years. With a lot of room for growth, digitalization is crucial to bring this industry forward, as highlighted in the latest white paper by YCP Solidiance titled "Digitalization in the Philippine Logistics Industry".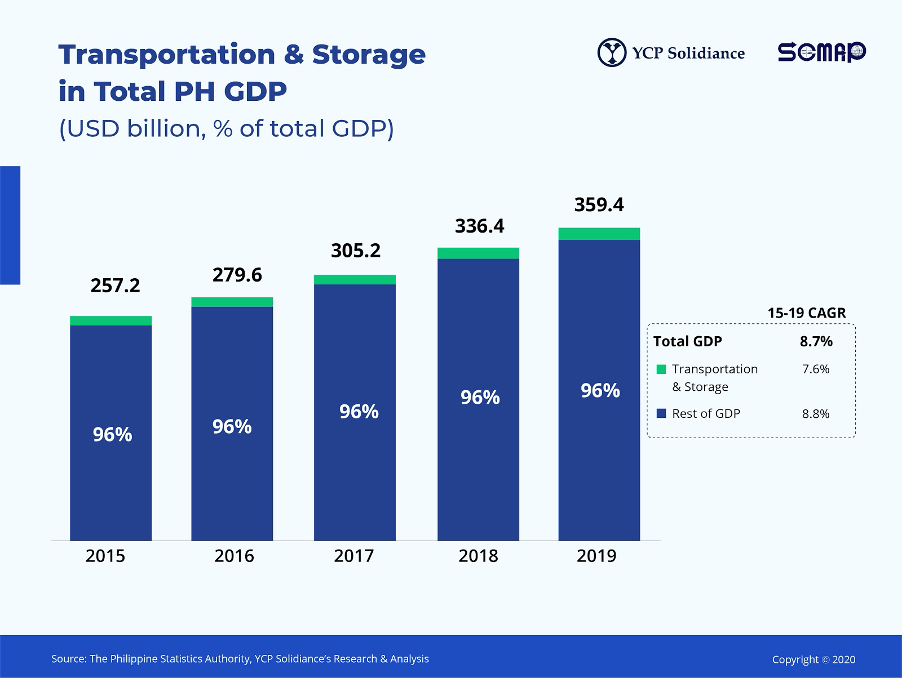 Common Challenges in Philippine Logistics Industry
Various businesses in the Philippines need to face some issues or challenges when trying to deliver goods around the islands, despite the countries' development of transportation infrastructure. These problems are.
Traffic Congestion in Metro Manila
The traffic congestion in this region is getting worse. This condition will, of course, hinder the flow of goods in and out of the area. It is predicted that if the government does not do anything about it, the country will lose US$ 106.4 million daily by 2023.
Manual Processes
Various businesses in this country still employ manual processes to deliver goods that take longer lead times and cause an inefficient flow of goods. Through this traditional practice, companies will not provide order transparency for the customers that will result in unhappy customers.
Inefficient Custom Clearance Processes
Many importers are complaining about the length of time needed in performing custom clearance processes. In some cases, it takes 25 days for importers to complete this process due to the inefficient, traditional practice and unsatisfying crane productivity and yard utilization rates.
Why Digitalization is Key to Bring the Industry Forward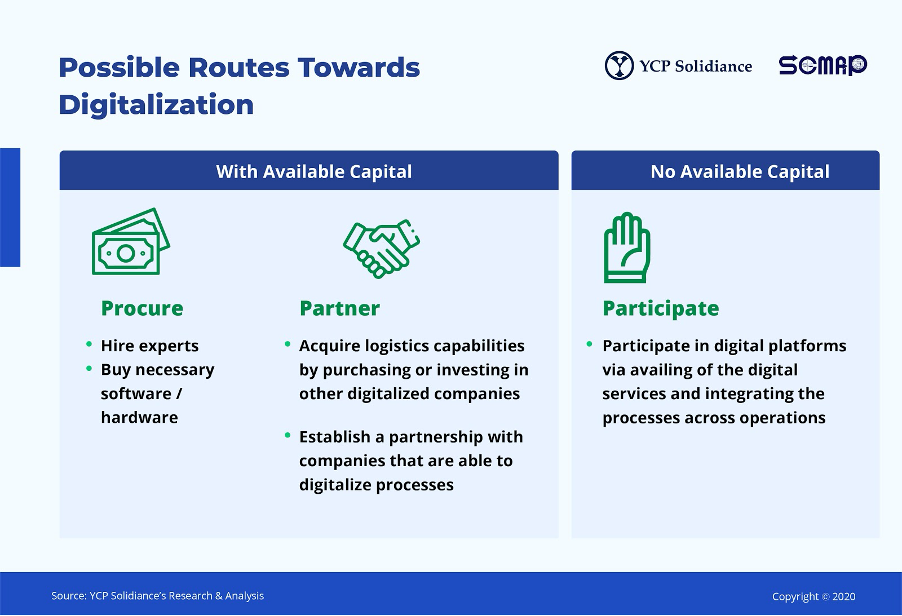 The white paper also suggests a single solution for the issues mentioned above - digitalization across the logistics industry. Few businesses already go digital, such as online shops (Lazada, Zalora, and Shopee) and logistics service companies (Ninja Van and Lalamove).
Both of them have successfully provided order transparency for their customers. They have proved that digitalization enables them to meet their customers' demands, deliver goods effectively, and allow them to grow rapidly.
By going digital, Lalamove has grown at the level of 2000% in the last four years, 2016-2020. Also, digitalization can cut down the custom clearance processes up to 80% to take only five days or even less.
It can be concluded that digitalization can solve the philippine logistic industry's issues and help businesses flourish. Businesses who want to apply this practice can follow one of the strategies below.
1. Hire experts or buy the required software and hardware to go digital.
2. Invest in or establish a partnership with digitalized companies.
3. Participate in digital platforms to integrate the digital processes into the businesses' operations.
Once the issues above are solved, businesses in the Philippines will gain a momentum of rapid growth. It is why the logistics industry needs to go digital.
Source: https://ycpsolidiance.com/white-paper/digitalization-in-the-philippine-logistics-industry