The global COVID-19 pandemic has created lasting effects on doing business in the Philippines—and with the new Omicron surge that started in January 2022 slowly dying down in the National Capital Region and other provinces, many budding entrepreneurs are looking at how they can capitalize on business trends to build back better.
Doing business in the Philippines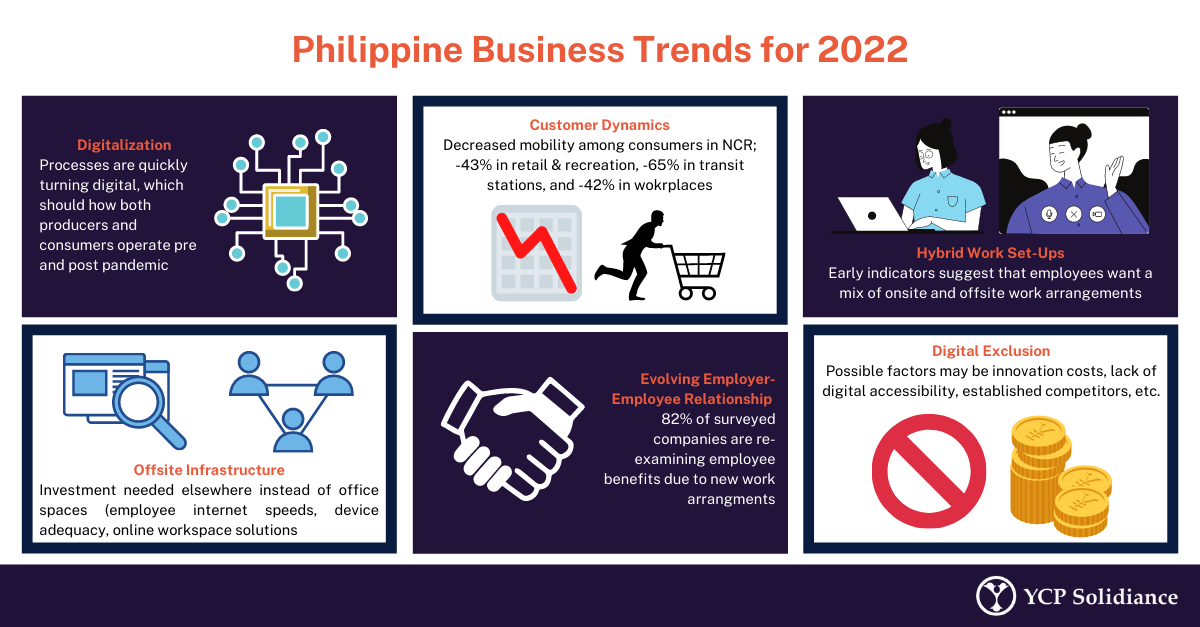 Part of doing business in the Philippines is understanding the country's Alert Level system, which helps minimize the risk of the virus spreading and determines which industries are allowed to have employees work on-site.
To address constantly changing Alert Level numbers, hybrid working has become more popular for companies across the Philippines, especially for those with corporate and on-site workers.
Many of the country's largest conglomerates operate on a "Team A, Team B" shifting system that allows employees to split working time between the office and their homes, while smaller businesses have started investing in e-commerce and delivery services to accommodate sudden changes in community quarantine alerts while only maintaining necessary on-site staff. This shift to online is especially notable in the social media-obsessed landscape of the Philippines, which boasts 76.2 million active users.
A report from Google places ASEAN-6 countries—of which the Philippines is part of—at having a high rate of internet economy growth at 37% CAGR over the past five years, with the bulk of growth occurring at the onset of the COVID-19 pandemic in 2020.
With the Omicron surge still alive in certain areas of the country, expect more businesses to place higher importance on investing in online solutions.
Entrepreneurial trends in the Philippines
According to the country's Department of Trade and Industry (DTI), 99% of the 957,620 registered businesses in the Philippines are classified as SMEs. E-commerce sites, mobile app services, and other online marketplaces have made it easier for budding entrepreneurs to put up their own enterprises in 2022.
Those who want to start their own business can focus on the following trending industries that will inevitably become industry pillars in the future, due to rapid online migration and changing consumer behaviors:
E-commerce consumer and retail: More and more Filipinos are transitioning to getting their everyday goods from online marketplaces, making it a competitive but profitable industry for businesses that can offer unique products and efficient services for the market.
Telehealth services: With the country's vaccination rate still not at its desired peak, Filipinos are looking into at-home or online health solutions, but currently, can only choose from a small pool of reliable and accredited providers.
Digital solutions: As more companies transition to remote or hybrid working schemes, B2B providers that can help enterprises adjust to this new way of working are extremely valuable. Businesses are looking for solutions in the areas of automation, the Internet of Things (IoT), and other similar technology to aid in the shift to the "new normal."