Challenges in the Philippines' Healthcare Industry
Since 2012, healthcare costs in the Philippines have surpassed per capita GDP growth and hit an increase of 20% in just a span of two years. Total health expenditure grew from PHP 593 billion in 2015 to PHP 712 billion in 2017.
Digitization in healthcare can address gaps including rising health care costs, lack of human resources and infrastructure in the Philippines, according to YCP Solidiance's latest report titled "Can Digitization Fix the Philippines' Healthcare Challenges?".
In the Philippines, the healthcare industry faces various issues such as rising costs, changing medical needs, and lack of infrastructure. This had led to a lower quality of services being offered to patients. More so, some patients do not receive any healthcare service at all.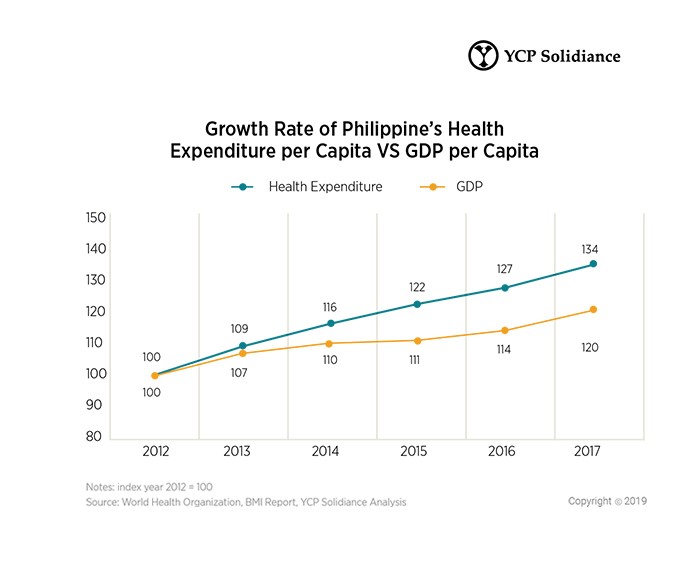 As health conditions evolve, the need for more advanced and specialized treatments emerge. Policymakers, healthcare providers, and pharmaceutical firms are compelled to scale up their research and development efforts to meet these changing needs.
With the rising demand for healthcare, the Philippine eHealth Bill was created to complement the UHC Act with the goal of digitizing healthcare delivery systems. Opportunities for digitization start to emerge in the healthcare industry such as establishing health information systems, utilizing electronic patient records, and offering online services to patients and automating certain operational processes.
Through digitization a few benefits have emerged such as reducing cost through increased efficiency, addressing of constraints and increase access, as well as enabling more complex research and development.
With digitization, efficiency improved by cutting down the time and resources needed to complete specific processes and tasks. Utilizing fewer resources and workforce effectively reduces the cost for healthcare providers while maintaining the quality of service. Moreover, digitization had created an alternative means for healthcare providers to reach their patients. Providers are able to utilize portals and applications with their patients. The applications are also used to better equip their staff with additional knowledge and skills. In addition, the digitalization of healthcare data increases the accuracy and efficiency of analysis, leading to more advanced services, such as epidemiology surveillance.
However, even with the benefits that have raised from digitization in the healthcare section, there are still many challenges. Healthcare digitization requires the participation and cooperation of all key stakeholders working within the value chain and. Unfortunately, this is not yet the case for the Philippines due to a number of external and internal factors.
Download the full report to gain more insights on "Can Digitization Fix The Philippines' Healthcare Challenges?".